The Royal Highland and Agricultural Society of Scotland Long Service Medals and Certificates for employees with 30 years service or more are presented at the Show each year. Employees working full time in the agricultural service industry e.g for a firm rather than on a farm, may now also be eligible for an award.
Application forms for Medals and Certificates can be obtained from the Secretary of the RHASS, or from  the RHASS website and further information is available from the Fife Show Secretary ([email protected]). If you would like the medal to be awarded at Fife Show, please complete the form, with employee and employer's details and counter-signed by an RHASS member, then return it to the Fife Agricultural Association Secretary, Nether Findas, Chance Inn, Nr Cupar KY15 5PQ. The Association Secretary will then sign it and forward to RHASS.
Completed applications must reach the Fife Show Secretary before 15 March 2023.
 Recipient
2022 (see photo)
James B Allan  (50yrs), David J McKerrow, Nochnary, Freuchie
Ian Brown  (34yrs),  Fife Tractors Ltd, Cupar
Allan R Bruce  (40yrs), Mitchell (Drumdreel) Partners, Strathmiglo
Alexander Carstairs  (40yrs),  H.C. Maitland & Partners, Grange of Lindores, Newburgh
David Ferguson  (50yrs),  Fife Tractors Ltd, Cupar
John Ferguson  (50yrs),  Fife Tractors Ltd, Cupar
Colin Gourlay  (35yrs),  JC Bell, Wilkieston Farm, Cupar
Stewart Louden  (30yrs),   Allan W Clark & Sons, Woodbank, Windygates
Moira McCann (45yrs),  Fife Tractors Ltd, Cupar
Robert Paul  (45yrs),  Strathtyrum & Fossoway Farms, St Andrews
Ian Rutherford (30yrs), MW Jack & Partners, Carriston Farm, Star
Andrew Scott  (30yrs),  Balcaskie Farms, Anstruther
Fiona Steedman  (33yrs), Fife Tractors Ltd, Cupar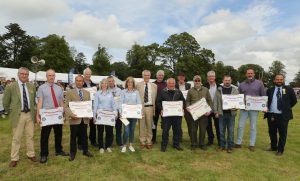 Photo credit Andrew Beveridge
2020 (not awarded at Show)
Brian Addison (33yrs), Reekie Ltd, Cupar
George Bain (35yrs), Sellars Agriculture Ltd, Cupar
2019
John Anderson (52yrs), R & R Lamont, Scotscraig, Tayport
Andrew Bousie (50yrs), Reekie Ltd, Cupar
Robert Gray (33yrs), Sellars Agriculture Ltd, Cupar
John Mackie (55yrs), R Dobie & Co, Carhurly, Dunino
Stuart Miller (42yrs), Sellars Agriculture Ltd, Cupar
Keith Nicol (44yrs), Balbirnie Home Farms
William Winton (49yrs), Reekie Ltd, Cupar
2018 (see photo)
Alexander Bissett (50yrs), Stravithie Mains, St Andrews
Douglas Clacher (30yrs), Drumrack Farm, St Andrews
David Ferguson (46yrs), Fife Tractors Ltd, Cupar
John Ferguson (47yrs), Fife Tractors Ltd, Cupar
Allan Forret (30yrs), Easter Lathrisk Farm, Ladybank
David Law (50yrs), Nethermyres Farm, Auchtermuchty
John Maxwell (30yrs), Woodbank, Windygates
Ronnie Steedman (42 yrs), Fife Tractors Ltd, Cupar
James Swinton (31yrs), Fife Tractors Ltd, Cupar
Kenneth Thomson (31yrs), Wellsgreen Farm, Windygates
Ian Wallace (40yrs), Fife Tractors Ltd, Cupar
David Whyte (43yrs), Fife Tractors Ltd, Cupar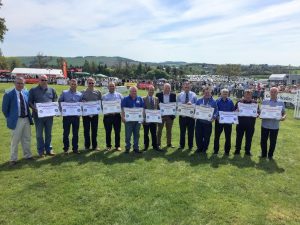 2017
Alexander Black (50 yrs), Treaton Farm, Star
Alexander Downie (30yrs), Raecruick Farm, Dunshelt
Calum Walker (30yrs), Nether Strathkinness, St Andrews
2016
Paul Carroll (40yrs), Starr Farm, Cupar
David Dewar (50yrs), Balniel, Colinsburgh
William Grieve (30yrs), Bonerbo, Anstruther & Brigton, St Andrews
Samuel Marshall (30yrs), West Hall, Cupar
Douglas Thomson (31yrs), Broomlees, Kilconquhar